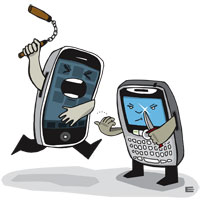 This ain't no joke...The heat is on

Ooooooo Look at that ass!

Leather and chrome?! Are you nuts!
So the 9000 or Bold as its called has been officially revealed and i ain't gonna lie i use my Curve so much my hands have started to look like this...
Now there's been one thing i have noticed recently, and that is a small war brewing between that of the blackberry and those who fight the good fight that is iPhone!
I know what i prefer and i ain't Steve jobs' bitch!...he says as he types on his mac book...
So who you with?
Biz